EZ GLAZE™ is a glass look profiled polycarbonate panel, intelligently designed, as elegant as glass but over 200 stronger, versatile and easy to maintain for great performance over time. It can be installed over a rafter system for extra strength, to make installation effortless by simply screwing the panels into the exisiting structure. 
EZ Glaze 50 is designed for rafters whose width is 50mm.
Currently available in 3 colours:
Bluish Breeze - allowing 70% light transmission
Solar Grey - allowing for 20% light transmission
Solar Ice - allowing for 20% light transmission
Please see the installation guide for all requirements or if you would like the data guide, please email us at sales@thepolycarbonatestore.co.uk .
We do not offer a cutting service for this material, the sheets are supplied as standard sizes. 
EZ Glaze 50 is designed for rafters whose width is 50mm.
Distance between rafters must be 600 mm (center to center).
Make sure the rafters are perfectly perpendicular to the beams/wall.
EZ Glaze requires rafters support only, no purlins are required.
To ensure proper water runoff, slope should be at least 5% (50mm rise over 1m length).
Drill 10 mm holes along the outer corrugation, every 500mm.
First and last drills should be located 30mm-50mm from the rafter's top and bottom edges.
Please view our data sheet for further guidance.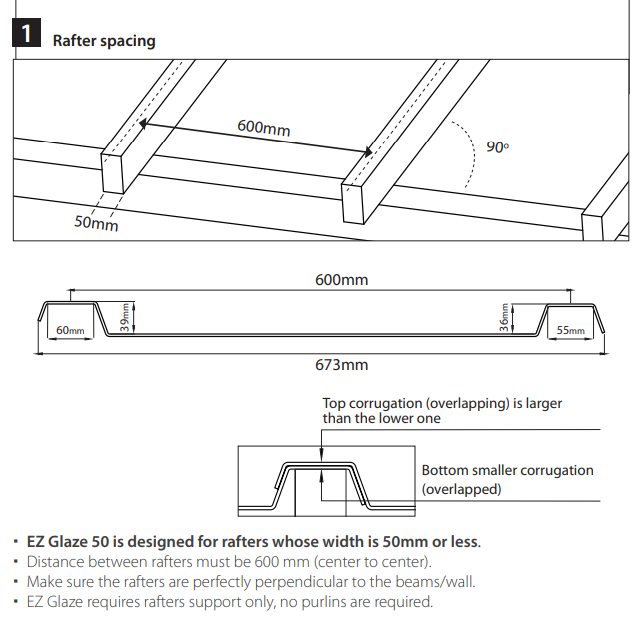 These are all brand names for Polycarbonate sheet manufactured by different companies, but effectively all are produced in the same way so all properties of the different brands are very similar, if you need any clarification on this please email us or call the sales office.
Both are plastic sheets, but both sheets are produced by using different components meaning the final produced sheets are very different. Polycarbonate is a virtually unbreakable material and machines and forms very different to Acrylic. Acrylic is much better for fabricating and making displays, signs and many other applications. Polycarbonate has a class 1 fire rating opposed to Acrylics Class 3/4 fire rating.
Polycarbonate Sheets are class 1 fire rated, so this means they are self-extinguishing .
Delivery is dependent the largest size of Polycarbonate Sheet you order, our delivery charges range from £7.50 to £25.00, some areas do have a surcharge on for delivery. When you add any items to the basket there is a delivery calculator in the cart.
We aim to deliver all orders within 14 working days from you placing the order on our website, if you require your delivery quicker please contact us to discuss your requirements.
Solid Polycarbonate is a solid piece of plastic and as clear as glass, multiwall is made up of numerous layers of Polycarbonate, the Multiwall Polycarbonate is commonly used in Conservatories.
Yes, you are welcome to collect from our unit in Sheffield, please allow 3 days for collection. If you need to collect earlier, please contact us to check this is possible.
Yes, you can order samples of all our products for a small charge, if you then place an order over £200 we will credit the samples up to the value of £10 against your order. You can view our samples page here.